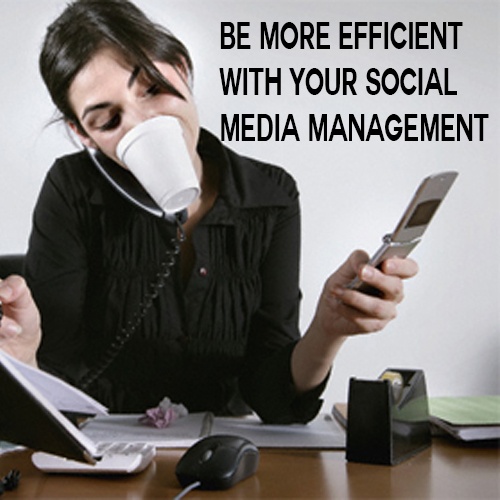 21 Oct

8 Tips for Social Media Management Efficiency

Trust me, I know how time consuming social media management can be! I began my career in social media nearly 8 years ago, back when Tony Hsieh was considered revolutionary for running the Zappos Twitter account. Each new move in the social media world led me to more and more responsibilities and experiences. From increased social networking platforms, to multiple analytics and monitoring tools, I was in a constantly changing and rapidly moving environment.

There was never enough information or reading materials I could get my hands on and the way I found to best learn was to dive in head first, test my ideas and theories, and get lost amongst the epic amounts of conversations taking place online. The problem was, I was truly getting lost in the social media world. I could easily have spent an entire day tweeting conversations with followers and customers without even realizing I hadn't had lunch, answered any emails, or visited our other social sites!

Luckily, it was only shortly into my career I knew just how important it was for me to organize and prioritize my daily tasks and long-term goals. To better help yourself and individuals working on your social media succeed; follow these 8 tips for effective social media management.
Be selective about which social networks to use – There are literally hundreds of social networks for you or your brand to choose from. It's imperative that you are selective and choose platforms that are appropriate for your brand and industry. There are absolutely some key networks to be on; such as Facebook, Google Plus, and a handful of others, but keep in mind there are industry specific networks that may be appropriate for your company and social media goals.
Clearly define your target audience – Determining who is going to be your core user may be difficult. I have seen businesses that have an idea of who they think their target audience is, but is slightly different in reality and businesses that focus in on a very specific, small niche and nail it. Narrowing in on the customer or clients you have and learning about this user group's needs, wants and interests will help your brand go far on social media. Don't forget, social media is about being social and if you aren't interacting in a meaningful way with your followers your social networks may fall flat.
Know your competition – Identifying others in your space prior to implementing a social media strategy will help you asses the social scene ahead of time. Take time to research the existing conversation, hot topics, and articles or posts that are shared hundreds of times. Entering into the conversations ready and armed with content, facts, and valuable information will establish you as a leader in your industry as well encourage more engagement and followers.
Create a voice – Establishing a voice will create a consistent method of delivering messages. The social media side of things can be really fun for businesses. Use this area to be creative and create a voice or online persona for your brand. Think Flo from Progressive. Not only is she a funny and entertaining personality on TV, she is a digital personality with over five and-a-half million fans on Facebook alone! Keep in mind comedy is not always right angle, but establishing a voice online will allow your followers on social networks to relate and interact with your brand in a way that they can't do through traditional and old fashioned marketing methods.
Create an editorial calendar – A loosely defined editorial calendar is an excellent tool for social media managers everywhere. This gives some guidance and structure for your upcoming posts and conversation topics on your social networks, never leaving a dull moment for your followers. Remember to be flexible on your calendar and allow room for changes and late breaking news. Editorial calendars are ideal for keeping things up to date, relevant, and prevent serious writers block. Additionally, an editorial calendar can alert co-workers in your office as to what's going on so they can play along as well.
Use just one analytics tracker – It seems as thought a new analytics and social monitoring tool pops up every day. It's possible that you could use one monitoring tool for each social network and usually in conjunction with each other. Meaning not only do you have to log-in to check multiple accounts, but social media managers are forced to cross reference data and typically have to compile multiple reports into one document. Talk about a waste of time and in most cases, money! Simplify your life by choosing one, all-encompassing monitoring tool that can produce a single report. You will thank yourself later!
Set up alerts for your industry – Now this may seem like a no-brainer and something you may do any way, but staying up to date on your industry allows you to share relevant information with your audience. Current events, news, and interesting facts keep the conversation going. Plus, if you know what is going on with your company, industry, and can answer questions and respond to requests, you are adding value to your social. People will follow you not only for the content, but the added value of being able to get info quickly.
Test out efficiency tools – As I mentioned in number 6, new tools, trackers and gadgets are introduced every day. If you're looking for a tool to streamline your posting process, I highly recommend giving a few a try. Rather than re-posting the same information on each platform individually, these tools will help you quickly distribute one post amongst all your social sites. While I do not recommend sending all your posts through one tool at one time, I do think it can help increase efficiencies. Remember, individual social networks require individual attention. Some posts can be broadcast all at once, but the meaningful engagement and interactions with followers need to be done without the help of tools.